The concert on July 3rd was GREAT!!!!!! It was my first time to Meet&Greet Gary! When he walked out I thought I was gonna pass out.
TV does not do this man any justice. He is Gorgeous! His eyes are beautiful and he has a smile to die for! This was one of my favorite days! I'm looking forward to seeing Gary again on Oct 12th if I can get my husband to take me. It's an 8 hour drive from here. If he doesn't he will not want to know WHAT"S ON MY MIND!
Gary has such a great sense of humor. He asked how many attended last years concert here. Then he replied " I still have a headache from it". This time he drank water.
I seen Gary on July 13th at Win River Casino in Redding,Ca. We got lost trying to find the place and we finally got there just as they were introducing Gary.
He played 3 songs from his upcoming album "See if I care". They were great and I am so excitied about his new cd. If you live in Northern California Gary is playing in Chico, Ca on Aug. 10th.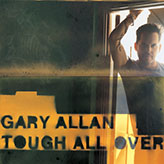 I bought 'TOUGH ALL OVER' the day it was released 10-12-05. Even though this music is a little different than what I'm used to hearing from Gary it's still excellent. I think Gary had to do this CD so he can grow with his music or visa versa. I love the first release from the CD. "Best I ever had" and apparently everyone else does to because it has been in the Top 3 at GAC for a couple weeks now.
"Tough All Over" is a collection of songs that will pull you in and send you out with an experience you won't forget.
Gary wrote or co-wrote 4 songs on the CD. These songs are from the heart and Gary's voice is chilling. I loved every song and hope that everybody else does but if they don't that okay to cause as Gary sings, and I quote
"I don't change for anyone. I stay the way I am. I don't do this for fame, I do this for me. It soothes my soul and keeps my sanity.I'll be here for today. Putting my misery on display."